River Severn search for missing swimmer in Bridgnorth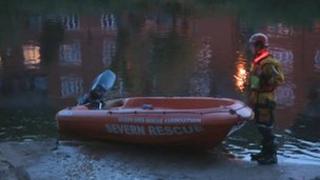 Emergency crews are searching for a man who disappeared while swimming in the River Severn in Shropshire.
The man was last seen swimming by the old Rowing Club in Bridgnorth at about 17:30 BST, West Mercia Police said.
Paramedics, air ambulance crews and a water rescue team from the Severn Area Rescue Association are at the scene.
The man was the only one in the water at the time and his family have been informed, the spokesman said.
"We will search as long as we can then see how we can further progress things," he added.
The force was alerted to reports of a man swimming in the river at 17:30 and emergency crews have been working together for several hours to try to find the man.