Calls for Shropshire ambulance coverage review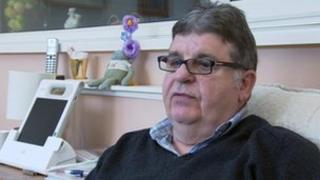 A review needs to be set up to consider ambulance coverage in Shropshire, a campaigner says.
Paul Passant, from Bridgnorth, launched a petition, calling for the inquiry and said lives "could be at risk".
His comments were prompted after West Midlands Ambulance Service revealed last week it did not have enough ambulances to cover the county.
An elderly dementia patient from Shrewsbury was left waiting for more than an hour, earlier this month.
West Midlands Ambulance Service (WMAS) said all ambulances were on 999 calls at the time and warned such incidents could happen again in Shropshire unless funding for extra ambulances was found.
In January, a campaign by Mr Passant led to two extra high-dependency crews being based in south Shropshire.
Despite that, he said the wider problems across the county had not been addressed.
The original campaign was prompted after his six-week-old grandson Thomas was left waiting for 41 minutes for an ambulance when he suffered breathing difficulties.
'Increased pressure'
Thomas later underwent 14 hours of surgery for a blood clot on the heart and weeks of treatment at Birmingham Children's Hospital.
"This wasn't a one-off," Mr Passant said. "I'm angry this is still happening.
"Ambulance staff have contacted me saying we don't have enough ambulances. They're worked off their feet.
"One paramedic said a doctor called for an emergency transfer and it took an hour, an hour and a half to get an ambulance."
Mr Passant said he had been approached by several people whose family, including young children, had been waiting up to an hour for an emergency ambulance.
WMAS said while funding from the Shropshire Clinical Commissioning Group had been increased, it had simply kept pace with an increasing number of 999 calls and not addressed the historic underfunding identified in an independent report, as far back as 2009.
The service said more recently the relocation of some hospital services and delays for ambulance crews at hospitals had increased pressure on staff.
WMAS said the rural nature of Shropshire made it almost impossible to meet government targets on the most serious calls, given the current level of funding.
Shropshire Clinical Commissioning Group said ambulance budgets had been increased in recent years and that it was raising the issue of better funding for rural services "at a national level".
NHS England, which funds CCGs, said a review was currently ongoing, part of which would consider funding in rural areas.