Shrewsbury's Shelton Hospital earmarked for 200 homes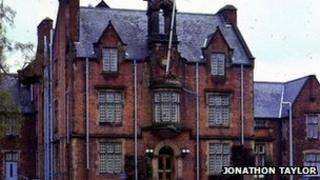 Plans for more than 200 houses and apartments at a former Victorian asylum site have been announced.
The grade II listed former Shelton Hospital site in Shrewsbury closed in September last year after a new mental health facility Redwoods Centre opened.
South Staffordshire and Shropshire NHS foundation trust said Shropshire Homes has been selected as the buyer of the Shelton Hospital site.
The company expects to submit a planning application in March.
Plans include retaining and converting almost all of the buildings, along with construction of new houses in the grounds and to the rear of the main hospital building, the firm said.