Thieves steal 26 gas meters from homes in Leegomery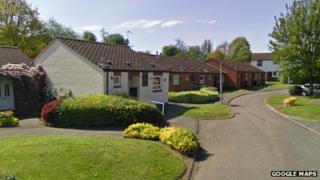 Metal thieves have stolen gas meters from outside 26 homes in a cul-de-sac in Shropshire - leaving residents without heating and cooking facilities.
National Grid said it received the first report of a problem in Chockleys Drive, Leegomery, at about 05:35 GMT.
A spokesman said: "I have been working in the industry for 20 years and it's the first time we have had something on this scale."
West Mercia Police is investigating the thefts.
A spokesman for the force said "an unknown tool" had been used to open the plastic boxes containing each meter.
He said each meter is worth about £200.
Wrekin Housing Trust provides sheltered housing for elderly people in Chockleys Drive.
A National Grid spokeswoman said residents needed to contact their gas provider to get new meters installed.
She said the firm had been giving out hot plates and fan heaters in the interim to affected residents.
"Our suspicion is they [the gas meters] have been stolen for scrap or stolen to sell on eBay," she added.