Wrekin Construction directors banned after gem valuation forgery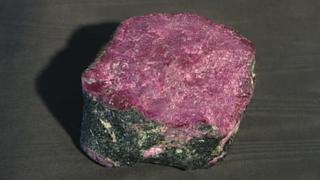 Two directors of a failed Shropshire construction company have been disqualified after a forged ruby valuation was used to inflate accounts.
Wrekin Construction Company Limited directors David Unwin and Nicholas Ibbotson have been banned as directors for ten and seven years respectively.
It comes after an £11m valuation of a 2kg ruby owned by the firm was found to be based on a forged document.
A third director, Peter Greenwood, was disqualified in 2011.
Shifnal-based Wrekin Construction went into administration in 2009 with losses of more than £45m to creditors.
Insolvency Service investigations found Mr Unwin transferred the ruby, known as The Gem of Tanzania, from another of his companies to Wrekin Construction in 2007.
Its worth was shown as £11m, based on a valuation supposedly carried out in Italy four months previously.
But the valuation was exposed as a forgery in 2009 and the gem was sold for £8,000 at auction.
'Alarm bells'
The Insolvency Service said Mr Unwin acknowledged there were uncertainties about the gem's value in the weeks before the gem was transferred.
It also said Mr Ibbotson, Wrekin Construction's finance director, was aware of those uncertainties, but told the company's new auditors that £11m was a genuine market value.
Insolvency Service spokesman Pabitar Powar said: "The purchase of an uncut ruby gemstone by Wrekin (Construction) was extraordinary and questionable.
"It is clear that the gemstone was included in the accounts to portray Wrekin's financial position as a sound one, whereas its true position was the exact opposite."
Mr Unwin, 65, of Widnes, Cheshire, signed a 10 year disqualification undertaking, while Mr Ibbotson, 56, of Sutton Coldfield, signed a seven-year disqualification.
Mr Powar said transferring funds to connected companies at a time when Wrekin Construction was insolvent and under severe financial pressure put the creditors at increased risk.
"A business deal which involved the creation of a sham invoice ought to have set alarm bells ringing for the directors and made them question the appropriateness of the whole deal in the first place," he said.
"Directors who recklessly present misleading information in this way damage the confidence of companies to do business with each other and undermine the business environment.
"These bans are a warning to other directors who might act recklessly and without due regard to the interests of creditors, that the Insolvency Service will investigate and remove them from the business environment."