Shrewsbury 24 pickets petition signed by 100,000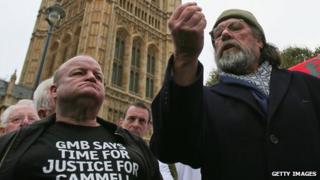 More than 100,000 people signed a petition calling to clear the names of pickets convicted over a builders' strike 40 years ago, campaigners said.
The 24 men were accused of intimidating workers and violent picketing in Telford, Shropshire, in 1972.
The petition will be handed to Downing Street next week by campaigners including Royle Family actor Ricky Tomlinson, who is one of the 24.
Tomlinson served 16 months in jail and five others were also sent to prison.
The "Shrewsbury 24" campaign group wants all documents related to the case to be released, claiming they would prove a "massive miscarriage of justice".
'Moral duty'
It said a paper version of the petition had been signed by about 70,000 people with 37,000 signing an online version.
Eileen Turnbull, the group's researcher, said: "We are delighted with the progress we are making and we are convinced that the unjust convictions will be overturned."
Steve Murphy, general secretary of construction union Ucatt, said: "Parliament now has a moral duty to debate the case and the government must come clean and publish all the papers relating to the pickets' case."
The campaign's submission argues the original case against the workers was political and an abuse of power by the Conservative government of the day.
The Conservative Party has not commented.