Fire at shed with 16,000 chickens near Oswestry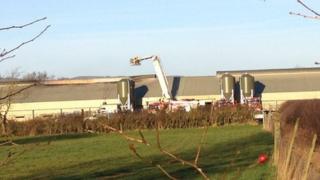 More than 40 firefighters have tackled a large blaze at a poultry shed containing 16,000 chickens.
The fire, in the building the size of a football pitch, started at about 08:00 GMT in Middleton near Oswestry, Shropshire.
The majority of the birds were saved and the fire was extinguished within two hours, Shropshire Fire and Rescue Service said.
It is believed a conveyer belt in the roof caught fire.
BBC Radio Shropshire reporter Sam Fleet said: "The roof has sagged. It looks like it's melted from the heat from the fire below.
"Fire officers used a large crane to assess the roof damage."