Shrewsbury's flood barriers taken down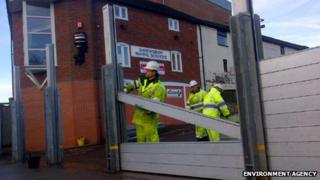 Flood defences in Shrewsbury have been taken down after river levels fell, the Environment Agency said.
The barriers were erected on Christmas Eve amid fears the town would be affected by flooding.
The agency said the defences worked well against rising water levels. Flood warnings for the centre of the town were downgraded on Friday.
The wet weather and and high winds have brought down trees and closed roads across Shropshire in the past few days.