Compensation for Shrewsbury explosion victims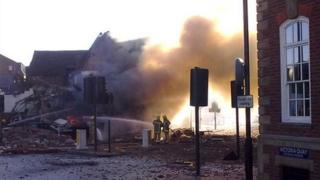 Compensation has been paid to 11 people who were injured in a gas explosion in Shrewsbury in 2010.
The blast at the corner of Bridge Street and Smithfield Road on 3 January closed parts of the town centre for more than a month.
The size of the settlement, paid by National Grid and BT, has not been revealed.
But Sarah Pearse, 23, who suffered 65% burns, said the settlement was "a weight off my shoulders".
Ms Pearse, who now lives in Stafford, was injured with three other friends in the explosion and spent three weeks in an induced coma at Selly Oak Hospital.
'Hardship and injury'
She said: "It's really dragged on, having to deal with solicitors and go back and forth to Shrewsbury, I haven't been able to move on with my life.
"It's nice to not have to think about it anymore."
An investigation by the Health and Safety Executive in 2010 found a gas leak had caused the explosion but said nobody was to blame as there was no evidence of any breach of safety legislation.
In April 2011, National Grid and BT agreed to pay compensation after recognising victims had "suffered considerable hardship and injury".
A joint statement by both companies said the details of the settlements were "confidential".
Shrewsbury firm Base Architects has drawn up plans to build a restaurant at the site on Bridge Street.