Kevin Roberts' daughter warns he 'will kill again' after learning of leave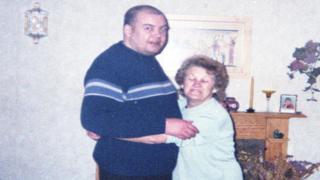 A killer's daughter has said she is "frightened to death" after learning he can leave the secure hospital where he is held for hours at a time.
Kevin Roberts admitted manslaughter in 2006 after battering his mother to death in Whitchurch, Shropshire.
Faye Howlett said her father, who can leave Birmingham's Reaside Clinic for up to two hours, "will kill again".
The Ministry of Justice (MoJ) said decisions to allow leave were "only taken after a full risk assessment".
Birmingham and Solihull Mental Health NHS Foundation Trust, which runs the clinic, said their patient assessments were "thorough".
'Sick to the stomach'
Roberts, who has schizophrenia, pleaded guilty to manslaughter on the grounds of diminished responsibility and was detained by mental health services indefinitely.
He had a history of violence and mental health issues which were known to authorities prior to the attack on his mother, Vera.
Ms Howlett said he was allowed to live with her grandmother, despite having previously fractured her skull.
She said he was assessed by health workers a few days prior to the killing following concerns raised by her grandmother, but no action had been taken.
Sentencing Roberts in 2006, Judge Frank Chapman said he had misgivings as to whether Mrs Roberts should have been allowed to give her son a home, but stressed proper protocols had been followed by mental health workers.
Ms Howlett said she had discovered that her father could leave Reaside when she found a teddy bear with "Mum" on it on her grandmother's grave on Boxing Day.
She said the find had left her "sick to the stomach".
"That's his way of letting us know he's around.
"I rang the clinic straightaway and asked them if my dad was allowed to leave.
"They told me he could go and buy a paper and he can choose to have two hours of freedom to go shopping in Birmingham."
'Safety is paramount'
Ms Howlett said the news had left her fearing for her life.
"I know he will kill again and that's what I'm trying to put across to this hospital," she said.
"I'm scared it'll be me, my mum, my auntie and my daughter."
The MoJ spokesman said decisions to allow community leave were "only taken after a full risk assessment by medical staff".
"In making such decisions, the safety of victims and their families is paramount."
A spokesman for the NHS trust said the role of mental health services "includes working to support all patients in their rehabilitation and, as part of this work, patients are continually assessed for leave and, ultimately, discharge from in-patient services".
"In the case of any restricted patients, this process is even more thorough and involves a full risk assessment by senior medical staff and the approval of the Ministry of Justice before leave is granted, to ensure the safety of patients, victims of crime and their families."