Frankwell flood defences on River Severn go up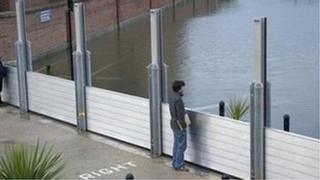 Flood barriers have been put up at Frankwell in Shrewsbury to protect against a rise in levels on the River Severn.
It means the Riverside short stay car park was closed from 14:00 GMT.
Flood warnings have been issued for the confluence of the rivers Vyrnwy and Severn as well as in Shrewsbury itself.
Chris Bainger, from the Environment Agency, said Shropshire had seen about two inches (5cm) of rain in the last 24 hours.
He said a lot more rain had fallen than was expected and he believed the Frankwell defences would see "quite a bit of water against them".
The Met Office said further rain, sometimes heavy, was expected through the night and on Wednesday.
Mr Bainger added that the already saturated ground meant tributaries on the Vyrnwy and Severn had risen quickly.
The Severn is expected to peak in Shrewsbury on Thursday.
The Environment Agency warned that Gravel Hill Lane, Sydney Avenue and Frankwell car park could all be affected by flooding, as well as the West Midlands Show Ground.
It added there were no plans for further barriers in Shropshire, but it would be monitoring all river levels in the area.