Floods hamper delayed Neen Sollars hydro scheme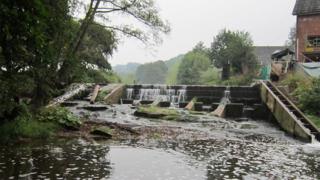 A community project to generate electricity from a river in south Shropshire is facing further delays due to poor weather.
The hydro scheme on the River Rea in Neen Sollars was originally due to start feeding electricity into the national grid by the end of 2012.
A series of floods and cold weather badly hit progress and some equipment needed to be redesigned.
The latest floods on the Rea are again hampering efforts, the group said.
'Frustrating time'
Chairman of the co-operative Bill Duley said all equipment was now installed and it could start operating within two or three weeks of levels dropping on the river.
He said test runs had already been completed and a few associated problems, such as voltage levels had been resolved.
All that remains is clearing any flood debris, final training on some equipment and sign off with suppliers.
"It's been a frustrating time. It's been sitting idle for two months and it's been very difficult with the river flows we're currently getting," he said.
"There's a river gauge within a mile or so and we're monitoring levels."
The Neen Sollars Community Hydro Scheme has been funded thanks to £149,500 raised by selling shares to people and groups mainly within the local area.
Mr Duley said 60% had been sold to people within 10 miles of the village.
The delays have also meant cash flow problems for the co-operative and last month it announced plans for a £20,000 bond issue to members.
Once completed the plant is expected to feed 12.5kW of electricity into the national grid, enough for about 10 homes, or 20% of Neen Sollars itself.