Sir Clive Sinclair 'never met' TV show fraud accused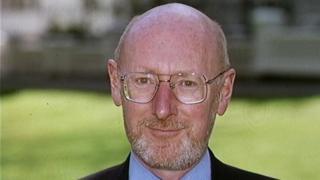 Computer inventor Sir Clive Sinclair has told a court he had "never met" a man accused of fraud, who claimed he had worked with him.
David Griffiths, 50, from Shropshire allegedly claimed to have helped develop computers for Sir Clive.
Birmingham Crown Court heard that Mr Griffiths never worked for the firm.
It is alleged he and Simon Drew, 49, from East Sussex, fraudulently gained £13.8m from investors to make an animated children's television series.
Mr Griffiths, of New Road, Oreton, Shropshire and Mr Drew of The Grove, Rye, East Sussex, deny 16 charges of fraud and 18 allegations of deception involving the obtaining of monies, cheques and financial guarantees between 2004 and 2009.
Sir Clive invented the ZX80, the UK's first home computer sold for less than £100.
The 73-year-old told the jury the ZX80 and ZX81 had been developed by himself and three other people based in Cambridge in the late 1970s and early 1980s.
When prosecution counsel Malcolm Morse asked him if one of those people had been David Griffiths he replied: "No, he was not."
The court heard Sir Clive had "never to my knowledge" met anyone named David Griffiths.
The trial continues.