'Super A&E' could replace Telford and Shrewsbury units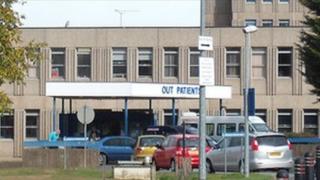 Shropshire could get a new hospital based around an accident and emergency unit serving the whole county.
Proposals would see existing A&Es in Shrewsbury and Telford replaced with a new department at a separate site.
The location and funding are yet to be decided, but experts said the project could start within the next five years.
Under the plans, the existing A&Es would be downgraded and turned into urgent care centres to deal with injuries such as fractures and cuts.
Shrewsbury and Telford Hospitals Trust has previously said it was unrealistic to keep two A&Es.
The emergency departments at the Royal Shrewsbury Hospital and Telford's Princess Royal have struggled to hit waiting time targets over recent years.
'Trauma focus'
David Evans, from Telford & Wrekin Clinical Commissioning Group (CCG), said: "We think there needs to be one centre of emergency care and one for planned care.
"Whether they end up on the same site or not is something we need to do further work on."
He said further research and consultation would follow, adding: "If we have a fair wind and the money is there, it could happen by 2018-19."
Caron Morton, from Shropshire CCG, said a single "super A&E" and attached acute care centre would be built "within Shrewsbury or Telford" and travelling times and access would be considered.
This would be supported by minor injury units in walk-in centres and doctors' surgeries so the new hospital could focus on "big trauma", she added.
Patient group Healthwatch Shropshire welcomed the announcement.
Telford and Wrekin Council, however, has repeated its call for a full 24-hour A&E at the Princess Royal.
Council leader Kuldip Sahota said he found it hard to believe the NHS could find the money for a new hospital.
More detailed plans are due to go out for consultation next year.