Ironbridge Gorge preservation reaches next stage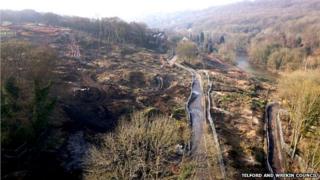 The next stage of stabilisation work is set to go ahead at the Ironbridge Gorge in Shropshire, following ground movement caused by recent heavy rain, high groundwater levels and flooding.
The Unesco World Heritage Site is under threat from landslides and slippage which could seriously damage the historic iron bridge and gorge.
The work will be concentrated between Jackfield Tile Museum and the Boat Inn.
It will include piling, drainage, river bank protection and landscaping.
New road
Telford and Wrekin Council has awarded the main works contract to local company McPhillips Wellington Ltd, which will begin the next stage of stabilisation at the end of March.
The project, costing £17.6m, has been awarded a grant of £12m by central government, with the local authority making up the shortfall.
The most active area of ground is to be made more secure to allow a new road to be built.
Councillor Richard Overton said: "Instability is a fact in the Gorge and these works are essential to help prevent landslides and maintain the structure of the Gorge both in the short and long term."
The work is due to finish by March 2016.