New £10.5m Shrewsbury museum opens after delays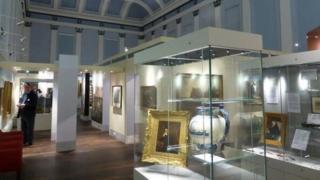 A new £10.5m museum and art gallery in Shropshire has opened after a five-year restoration project.
The Shrewsbury Museum and Art Gallery was due to open last year but some of the work significantly delayed the project, the council said.
It now occupies the former site of Shrewsbury's old Music Hall and the 13th Century Vaughan's Mansion.
Artwork by Tracey Emin, Jake and Dinos Chapman, Damien Hirst and Frank Cohen is on show.
Other exhibits include Roman artefacts, many discovered at nearby Wroxeter, and work inspired by Charles Darwin, who was born in the town.
'Sustainable future'
Entry to the Roman and pre-history exhibition is free, although admission to other parts of the museum and gallery costs £4 for adults.
While some residents defended the charge on Twitter, several others criticised it, with one, Terry Barlow, warning it could turn the impressive building into a "white elephant".
Shropshire Council said it was facing "unprecedented financial challenges" on its budget and the decision to charge admission was "the only option which provides a viable and sustainable future for the museum service".
The local authority is expecting about 50,000 visitors to the museum over the next year, double the number that passed through the doors at its former home at Rowleys House.
Dr Tim Jenkins, heritage project manager for Shropshire Council, said parts of the Music Hall building dated back 750 years and the restoration had proved a "huge challenge".
He also described the collection as "world class".
The team responsible for restoring the building said many of the delays in the project were due to discovering and correcting poor quality repairs in the past, some dating back to 1623.
They said six tonnes of steel had been used to secure some of the most at-risk sections of the building.