Closure of Hartley's Day Centre in Shrewsbury 'unlawful'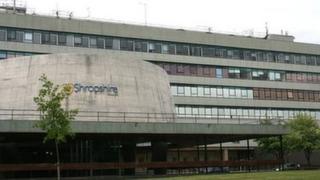 A council's decision to close a day centre without proper consultation was unlawful, judges have ruled.
A 65-year-old woman with learning difficulties took Shropshire Council to court over its decision to shut Hartley's Day Centre in Shrewsbury.
Judges at the Court of Appeal found in her favour but said their decision came too late to save the centre.
The authority said people who used Hartley's had been helped to access other services since the closure.
The court heard the woman, referred to as LH, who is cared for by her sister, had attended the centre twice a week for the past 12 years.
Her case had previously failed in the High Court but her challenge was upheld by three Court of Appeal judges.
Lord Justice Longmore, sitting with Lord Justice Lewison and Lord Justice McFarlane, said any chance of keeping the centre open had lapsed after the High Court decided against her in November.
'Mistaken its obligations'
He ruled it did not require the closure decision to be quashed for a lawful consultation to take place.
He said that although Shropshire Council had consulted generally about its plans for the day centre care it had "mistaken its obligations at the last stage".
"The omission to consult the users and relatives on the closure of Hartley's Day Centre before it was decided to close it was indeed unlawful," Lord Justice Longmore said.
After the ruling, LH's sister said: "Sadly we have already lost one centre in Hartley's, but hopefully now the users of the centres will be consulted on the best way forward, and the council will think again about reopening Sabrina Court day centre.
"[My sister is] having to start all over again after making such good progress. It is really difficult for her and others who are affected but hopefully now our voices will be heard."
Stephen Chandler, director of adult services at Shropshire Council, said the authority was now "reviewing what options are open to us".
"It's important to note that Hartley's has already closed and the people who used the service have been supported to find alternative ways to spend their time, which on the whole have been successful," he said.
He added the authority would be more thorough in consultation on any future decisions.
Solicitor Alex Rook, representing LH, said: "The judgment provides much needed legal clarity at a time when many councils are being forced into making cuts to services."