Dana prison attracts 'handful' of bidders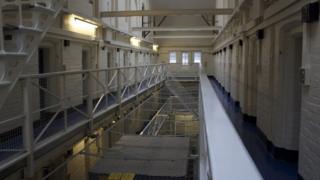 A "handful" of bids have been made to buy Shrewsbury's Dana prison, according to the firm brought in to sell it off.
Birmingham-based GVA has refused to confirm the size of the offers or what they plan to do with the Grade II-listed building.
It was one of six prisons which closed last year in a bid to save £63m.
The Ministry of Justice (MoJ) will now look over the offers, but it will not necessarily sell to the highest bidder, GVA said.
The firm said the MoJ wanted to get "best value" from the deal, but it would look carefully at all the proposals to make sure they are appropriate for the jail.
Built in 1877, the three-acre site housed more than 300 prisoners, although it was originally only meant for 170.
Hotel option
The last prisoners left in February 2013 and the closure a month later meant the cutting of 190 jobs.
The MoJ said: "The decision [to close the jail] is part of our plan to reduce the cost of prison to taxpayers by replacing older prisons with newer, more efficient accommodation at a much lower cost."
English Heritage and some Shropshire councillors have suggested HMP Shrewsbury could be turned into a hotel, but GVA said it could not say if any of the bidders had this in mind.
The deadline for offers passed at 12:00 BST on Wednesday and GVA said it would meet the MoJ next week to go through the proposals.
If one is accepted, the sale could go through in just four weeks, GVA said.
But it added any deal could be held up if the successful bidder needed to get planning consent from Shropshire Council.