Shrewsbury school discovers mysterious Ruskin letter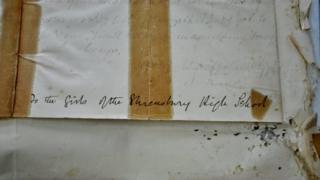 A letter from Victorian art critic John Ruskin has been discovered in the archives of a girls' school in Shrewsbury.
He had no obvious links to the school or the town, and librarian Alex Hale has appealed for anyone who can shed light on the mystery to contact her.
Dated 1886, it starts "My dear girls…" but is in such a condition that only some words and sentences are legible.
Ruskin was also known as a prominent social thinker and philanthropist.
The document, which bears his signature, has been displayed at some point over the years, Miss Hale said, as it has been taped together "rather crudely, further complicating the translation process".
Discussions with a conservator from Shropshire Archives are under way, to have the letter deciphered and preserved so that it can be displayed at Shrewsbury High School.
"It is a fascinating document from a historically important figure and it would be wonderful to find out what he had to say in this letter and why he appeared to have such affection for the girls at the school," said Miss Hale.