Portsmouth fan wins payout over Shrewsbury 'kettling'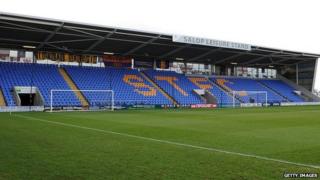 A young football fan has been paid compensation after being caught up in a police "kettling" operation at a match.
The 14-year-old Portsmouth supporter was separated from his friend and his friend's father at the Shrewsbury Town game at the end of the 2012/13 season.
West Mercia Police paid him £3,500 after accepting he was innocently caught up in a larger group of fans.
The Football Supporters' Federation (FSF), which helped pay his legal fees, said it was pleased with the outcome.
The FSF said the boy had gone to the match by train and was separated by his friend and his friend's father at Shrewsbury station.
'Lawful police tactic'
Portsmouth fans' group, the Pompey Supporters Trust (PST), said a group of fans travelling to the Shrewsbury match were then "randomly 'kettled' and held in a nightclub before being forcibly bussed to the stadium".
West Mercia Police called the decision to hold the fans in this way a "lawful police tactic" and said the boy was with "a larger group of fans containing a number of known 'risk' supporters".
The FSF and the PST supported the boy in a legal claim against the police, arguing there was no trouble going on and no-one told him why the operation was happening.
They said the fans were searched and held in the club for two hours before the police allowed them to go to the game.
The police agreed to compensate the young supporter but Penny Fishwick, its head of legal services said: "The actions of the police in containing the supporters on this occasion were entirely justifiable and will not necessitate the payment of compensation to other supporters."