Telford housing estate invaded by hungry insect larvae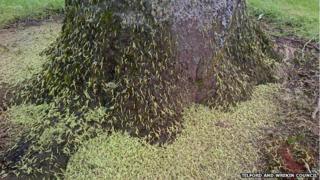 Millions of hungry insect larvae have invaded a Shropshire housing estate.
The larvae, believed to be offspring of the brown-headed sawfly, stripped leaves from a group of ash trees after they appeared in Sutton Hill, Telford
Telford and Wrekin Council described the invasion as a "fascinating natural phenomenon" but said they should not be mistaken for hungry caterpillars.
The Shropshire Wildlife Trust said the trees could cope with the invasion and should make a full recovery.
Stuart Edmunds from the trust said the mild, wet weather provided perfect conditions for the survival of insect larvae.
He believed the insects concentrated on this group of trees, because they were the only ones available in the area.