Wellington Clifton Cinema plans delayed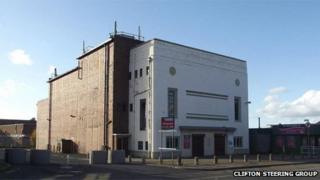 Plans to buy a former cinema for the community have been delayed.
The Clifton cinema, in Wellington, Shropshire, closed in 1989 and was used as a furniture store until Dunelm Mill moved out in 2012.
The Save the Clifton group plan to turn it into an arts venue, funding it by selling community shares.
A deadline for selling those shares has now been extended from June until the end of the year, after failing to reach its target.
The project needs to find £500,000 to initially buy the property from Dunelm, but has so far raised only £25,000.
Bill Graham, chairman of the Save the Clifton group, said many of the 400 investors had so far been local residents buying a small number of shares.
He said the group now hoped to target larger investors from outside the area and focus on outside grants.
"As there seems no likelihood that anybody else is going to do anything with the building, time, it seems, is on our side," he said.
Initially, the group plans to restore the building and turn it into dance studios, rehearsal space, meeting rooms and a cafe bar.
Ultimately, Mr Graham said they hoped to create a 100-seat cinema and a 400-seat theatre within the venue.