Community cinema opening in converted Oswestry chapel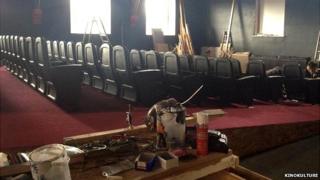 A new cinema opens in Oswestry later, after more than five months of conversion work by volunteers.
Ian Garland and Ruth Carter led a team to convert the old Kingswell Chapel, formerly used as a youth centre.
Their work to create Kinokulture has been recognised by the Arts Council - and it is one of just four cinemas in England to get special funding to show artists' films alongside blockbusters.
Volunteer Claire Johnson said: "It's going to benefit the whole community."
Co-owner Ruth Carter said: "We've had so much help from people in the community. We would never, ever have been able to do this without them. It brings us to tears when we think about it."
The building, on Arthur Street, now has 79 cinema seats, which were moved from a multiplex cinema that closed down in Chester.
Ian Garland, co-owner, said artists' films would be important, in addition to mainstream films.
"It's something we're passionate about so when this opportunity came up we signed up for it immediately.
"We want to engage with local people to create work as well as enable them to see work. There are some astonishing people out there," he said.
Adam Pugh, who is working with the Arts Council to support alternative cinema programming, said Kinokulture was "a unique example".
"The last cinema of five in the town closed 15 years or so ago: it's a brave move [to convert the chapel] but it's something that's timely because people need the chance to see films," he said.