Monkmoor dentist struck off for 'clinical failings'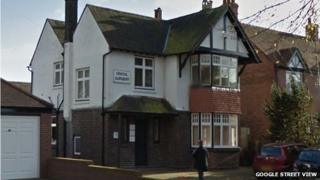 A dentist who failed to spot mouth problems, kept poor records and prescribed antibiotics without examining patients has been struck off.
Robin Pope worked at Monkmoor Dental Surgery in Shrewsbury.
A professional conduct committee hearing by the General Dental Council found he provided sub-standard treatment to 11 patients between 2010 and 2012.
He also made 31 inappropriate and dishonest claims for payment.
'Barely legible notes'
A summary of the hearing, which addressed Mr Pope directly, said: "Your failings were wide ranging and repeated and involved serious clinical errors as well as blatant acts of dishonesty."
The inquiry revealed Pope failed to undertake examinations and made "inadequate and barely legible notes".
In one case, he decided to ignore advice and extracted the teeth of a patient who was on medication instead of referring him to hospital.
In another, he failed to diagnose and treat gingival calculus and, in a third, he failed to identify and treat a number of carious lesions.
'Dishonest actions'
The summary said the committee took into consideration a number of positive testimonials that described him as a "competent and caring dentist".
Justifying the decision to erase his name from the dentists' register, it added: "The committee determined that your clinical failings demonstrated a disregard for your patients' best interests.
"You failed to treat your patients appropriately and, in addition, you dishonestly claimed unwarranted payments for your work.
"The committee took the view that your dishonest actions, which involved you knowingly and dishonestly taking advantage of a trust based contractual system, compounded matters and rendered your overall conduct irredeemable."
Mr Pope has the option to appeal the decision.