Tree branch 'damaged' St Mary's church in Shrewsbury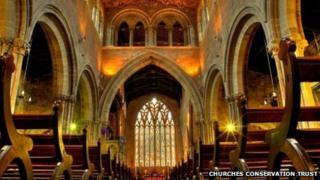 A tree branch is believed to have "wrapped round" a pinnacle causing it to break away from a medieval church in Shrewsbury, said a conservation trust.
A 4ft (1.2m) ornate carving, which formed the top of the pinnacle, fell from St Mary the Virgin church in the early hours of Monday.
Robert Milton, of the Churches Conservation Trust, said it would seek to get the tree cut back.
Five other pinnacles on the church's chapel have been deemed safe, he said.
An architect inspected the site after the incident, which caused St Mary's Place in the town centre to be closed for most of Monday.
Mr Milton said: "We think the tree managed to get wrapped round the pinnacle during the windy weather and the elastic effect of the tree bough managed to damage the pinnacle."
The pinnacle was an early Victorian addition to the medieval church building.
Mr Milton said the grade I listed building was "incredibly important" for the country's heritage and to the trust which protects 346 churches which are no longer used for worship.
St Mary's, which has not been used for church services since 1987, is used for exhibitions, concerts and events and also has a cafe.