Appeal after St Mary's church in Shrewsbury damaged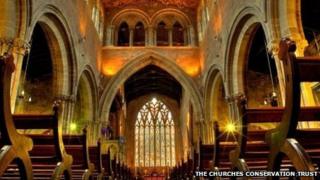 An appeal for donations has been made to replace a pinnacle which broke away from a church in Shrewsbury.
Restoring the pinnacle, which fell from St Mary the Virgin church on Monday in high winds, would cost £2,500, The Churches Conservation Trust said.
The charity said it was believed a tree got wrapped around the pinnacle and a 4ft (1.2m) ornate carving, which formed the top of it, came down.
Anyone wishing to donate has been urged to contact the trust.
St Mary's, which has not been used for church services since 1987, is used for exhibitions, concerts and events and also has a cafe.
The pinnacle was an early Victorian addition to the church building.