'World-class' tiles go on display at Jackfield museum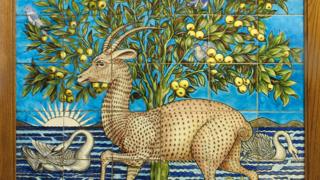 A "world-class" collection of tiles has gone on display after being donated to a museum.
The 1,300 decorative tiles from the mid-19th and 20th Century range from one-off pieces to ornate panels from hospitals and public buildings.
Collector John Scott has given the tiles, designed by artists including Pugin and William de Morgan, to Jackfield Tile Museum in Shropshire.
They reflect changing tastes over the last 150 years, the museum said.
The collection was previously on show in Mr Scott's London home.
Part of the display reflects the flamboyance of his sitting room, with rich colours and tiles over the walls from floor to ceiling.
Mr Scott said he decided to collect tiles after "several bouts of misfortune" in the property business.
"It's very satisfying to go and buy a tile for £5, very emotionally satisfying - like a little drink," he said.
"You can enjoy them and have them around and look at them."
Officials at the museum hope the donation will elevate its standing as a holder of one of the world's most comprehensive permanent collections of British decorative tiles.
The museum said it had worked with Mr Scott for a number of years and he was trying to encourage other people to donate their collections.
He said he sought pieces that reflected modern English design. He began amassing his collection by being able to go into buildings earmarked for demolition.
"As an industry, we were masters of encaustic design [using paint and that is fixed with heat].
"I maintain we were the greatest tile manufacturers in the world between 1830 and 1930 and I'm waiting for someone to tell me I'm wrong - I like the stimulus of controversy."
The gallery also features clusters of some of Mr Scott's favourite tiles, showcases of works from the key designers and a digital catalogue of the entire collection.
Other designers in the collection include architect Augustus Pugin, Christopher Dresser, William Morris, William De Morgan and illustrator Edward Bawden.
Mr Scott said he was "very proud and very pleased" with the new gallery.
The museum's new John Scott Gallery is housed in a former workroom of tile manufacturer Craven Dunnill, which started producing in Ironbridge in the 1870s.
Dr Matt Thompson, senior curator at Ironbridge Gorge Museum Trust, said the firm was a real powerhouse for making everyday tiles as well as high status ones at that time.
Its products were shipped around the world to countries including India, Canada and New Zealand before the industry declined and the company left the area and the site fell into disrepair.
The museum trust took over the site and the firm returned about 15 years ago.