Marilyn Monroe photos sold by Church Stretton auctioneers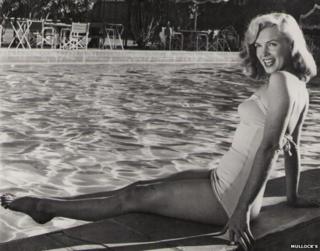 More than 30 photographs of movie star Marilyn Monroe have sold for about £25,000 at auction.
The original prints were collected by Welsh professional snooker player Dominic Dale over a 25-year period.
Auctioneers Mullock's, based in Church Stretton, said it was one of the largest private collections of Monroe photographs.
Many of the lots, which also included books and catalogues, were sold to bidders in Italy and Spain.
The most expensive item, a black and white photo dating back to 1949 and accompanying autograph, sold for £4,800, well above its estimate.
A black and white photo which inspired screen prints by artist Andy Warhol raised more than £1,000.
The 32 images depict her entire career and include a photo Monroe commissioned herself, in which she pretended to be dead, a few months before she actually died in 1962, Mullock's said.
Historical documents expert Richard Westwood-Brookes said there was still "enormous interest" in Monroe around the world, despite it being more than 50 years since her death.
He said: "It's an extremely interesting and important collection. She's one of those people who never seems to fade in (terms of) public adoration.
"She continues to fascinate, whereas some others have declined. Elvis Presley continues to fade away in auction prices."