New Shrewsbury to London rail service begins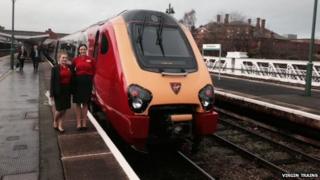 A direct rail service between Shrewsbury and London has started.
A similar service, run by Wrexham & Shropshire Trains, ended in 2011.
Since then, business and political leaders in Shropshire have campaigned to get the route reinstated, saying it would boost tourism and the local economy.
A Virgin Trains service was approved by the Office of Rail Regulation in September and the first train set out from Shrewsbury at 15:24 GMT on Sunday.
On weekdays, it will see two services in each direction.
'Attracting investment'
Trains will call at Wellington, Telford Central, Wolverhampton, Birmingham New Street, Birmingham International, Coventry, Watford Junction and London Euston.
Richard Sheehan, chief executive of Shropshire's Chamber of Commerce, said it was "vitally important" for the county.
"We run many different events, from the flower show to many different festivals and we have very attractive towns. So there are lots of reasons why people would come here," he said.
As well as encouraging more tourism, Mr Sheehan said a direct rail service would make it easier to attract inward investment and persuade companies to relocate to Shropshire.
A similar direct route from Blackpool to London is due to start on Monday.