WW1 exhibition opens at RAF Museum Cosford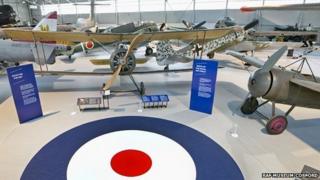 An exhibition about Britain's World War One air services has been unveiled at RAF Museum Cosford in Shropshire.
The display, along with one at the museum's London site, have opened thanks to a £900,000 Heritage Lottery Fund grant.
It features aircraft, documents, films and photographs and also looks at aircraft manufacturers in the Midlands.
Stories of pilots and ground crew from the Royal Flying Corps in the region are featured.
Three iconic World War One aircraft - the Sopwith Pup, Sopwith 1 ½ Strutter and the Bristol M.1c - form the centrepiece of the new display.
Karen Whitting, director of public programmes at the RAF Museum, said: "It is incredibly important for the museum to share these First World War stories and experiences with the local community here at Cosford.
"The exhibition also marks the beginning of an important phase for the museum as it gears up to celebrate the RAF's centenary in 2018."
The Cosford exhibition was opened on Thursday by representatives from RAF Museum Trustees, the Heritage Lottery Fund and BAE Systems, which has also supported the initiative, while the London exhibition was unveiled in December.