Shropshire man survives being hit by 80ft oak tree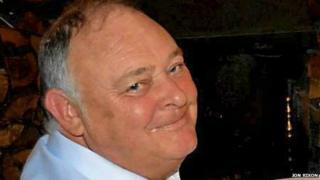 A walker has survived being hit by an 80ft (24m) oak tree which collapsed on top of him.
Jon Rixon, 62, from Upper Battlefield, near Shrewsbury, was walking through woods at Haughmond Hill on Sunday when the tree fell.
Mr Rixon's wife, Suzi, said her husband had heard "a large crack" as the oak collapsed and had "run for his life".
He suffered a broken collar bone, five broken ribs and a punctured lung.
'Lucky to be alive'
The fire service said they believed campers had lit a fire inside the tree.
Mr Rixon, a retired RAF officer, was hit by the tree's top branches.
He is being treated at the Royal Shrewsbury Hospital. Mrs Rixon said he was traumatised by what had happened.
She said her husband had enjoyed regular walks in the area.
"When he was walking on Sunday, he noticed the smoke and then heard the crack and started to run as fast as he could," she said.
"That saved his life. He is very lucky to be alive.
"We are furious that somebody decided to set fire to the hollow trunk of what is an enormous oak tree."
Mr Rixon managed to scramble out from under the tree and was helped by a passing mountain biker, who called for an air ambulance.
Shropshire Fire and Rescue said they believed the tree had been on fire for about 12 hours before Mr Rixon passed it, at around 10:20 GMT.