Attingham Park: National Trust house 'now watertight'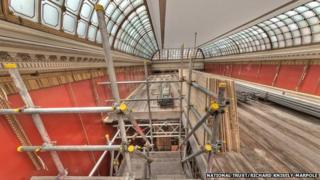 A Grade I-listed house that has been leaking for more than 200 years has finally been made watertight, the National Trust has said.
The curved, cast iron and glass roof at Attingham Park, near Shrewsbury, has been leaking ever since it was built in 1807.
The trust, which owns the property, has almost completed a two-year restoration of the roof.
The roof and the picture gallery below were designed by architect John Nash.
The trust said it was "nearing completion" of the conservation project, which has seen a roof made from steel and glass built over the 1807 original to protect it.
John Nash
Nash was one of the most active architects of the Regency period - during the early 19th Century.
Born in 1752 in south London, the son of a Welsh millwright, he trained as an architect with Sir Robert Taylor.
After early setbacks he went on to receive a series of commissions from the Prince Regent, who later became King George IV.
Nash designed Brighton Pavilion and much of Buckingham Palace, although the iconic facade facing The Mall was a later addition.
He formed a successful partnership with landscape designer Humphry Repton, with the latter laying out the parks at several of the properties built by Nash.
"This week was the first time we have seen daylight in the picture gallery for two years," said the trust, in a statement.
"We are actually nearing practical completion of the construction elements, with the glass all in place and watertight now.
"On 9 February we will be removing the internal scaffold. The scaffold coming down is really exciting as we will have not have seen the ceiling from the ground for more than two years."
Nash, who also designed Buckingham Palace, was described by the trust as "highly experimental", with the picture gallery marking one of the first uses of cast iron in a non-industrial building.
However, the trust added the design was "flashy, but flawed" and said it started leaking just a few years after it was built.