Midnight Blue author Pauline Fisk dies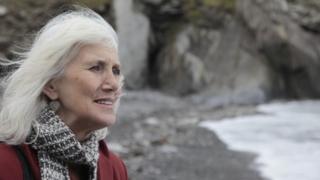 Award-winning children's author Pauline Fisk has died, her family has announced.
The 66-year-old, from Shrewsbury, was diagnosed with cancer of the oesophagus in December and died on Sunday.
In 1990, she won the Smarties Prize for children's fiction for her first novel Midnight Blue, which was also shortlisted for the Whitbread Award for Children's Books.
Her family described her as a "passionate" writer who embraced life.
Fisk, real name Pauline Davies, grew up in South London, where she said at the age of nine, she began writing stories and poems based on the characters from her favourite books.
She moved to Shropshire in the 1970s and several of her novels are based in, or inspired by, the county.
"That was her life and she devoted so much of her life and time here to those stories and those characters, whom she loved so dearly," Fisk's daughter Nancy Lowe said.
"Such a lot of her inspiration came from the world around her, people she met."
Paying tribute, her son, Idris Davies, said: "She saw stories everywhere and she only wrote down a fraction of the stories that were going on in her head."