Georgia Williams death: Another officer faces misconduct probe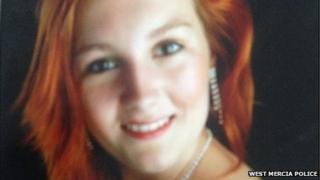 An eighth police officer is being investigated for possible misconduct over contact with the man who went on to murder schoolgirl Georgia Williams.
Jamie Reynolds admitted murdering the 17-year-old from Wellington in May 2013 before dumping her body in woodland.
He was previously cautioned for trying to strangle a teenage girl in 2008.
Devon and Cornwall Police, who are examining West Mercia's dealings with Reynolds, said a police staff member was also under investigation.
Six officers were served with misconduct notices in September, and the seventh officer and the police staff member given theirs in November.
None of the officers have been suspended, Devon and Cornwall Police said.
"All of the complainants are being supported and regularly informed of the progress of the investigation," a spokesman said.
The force said it hoped to deliver a final report to West Mercia Police "in the spring".
Reynolds, from Wellington in Telford, was ordered to spend the rest of his life in jail.