Festival opening for Darwin's garden in Shrewsbury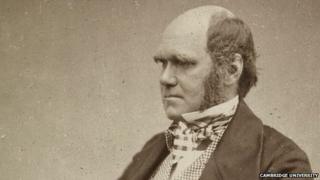 Charles Darwin's garden will get its official opening in Shrewsbury as part of town's annual celebratory festival, which got under way on Sunday.
The festival, in honour of the Shropshire-born scientist, features a variety of concerts, talks and tours.
Festival organiser the Shropshire Wildlife Trust bought the garden on Middle Walk, where he spent his childhood, a year ago.
The Darwin Festival runs until 21 February.
Charles Darwin 1809-1882
Born in Shrewsbury on 12 February 1809
A statue of him stands outside Shrewsbury library - a building that was once his school.
Famed for his theory of evolution by natural selection
On the Origin of Species explained how new species evolved
Travelled extensively, most famously as the naturalist on the Beagle on an expedition to South America and the Galapagos Islands
A trust spokesman said the aim was to aim to inspire people with curiosity about the natural world.
Darwin's garden will be officially opened on February 14.