Telford's St Quentin Gate closed overnight for three weeks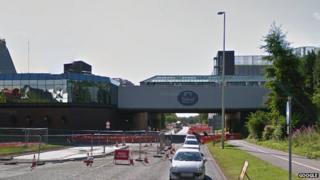 Three weeks of overnight road closures have begun in Telford town centre as the final part of an £11.8m regeneration scheme.
St Quentin Gate will close between 19:00 GMT and 06:00 GMT for resurfacing work, Telford and Wrekin Council said.
The Box Road Regeneration Project will improve access to the shopping centre and improve safety for cyclists and pedestrians, the council said.
The project, which began is 2013, is due to be finished by the end of March.
The Department for Transport has given grants of £7.8m to fund the scheme.