Rare Afghanistan medal could sell for £70,000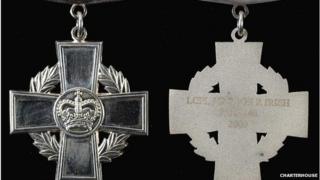 A medal won by a soldier in Afghanistan is expected to sell for £70,000, auctioneers have said.
The Conspicuous Gallantry Cross given to Cpl Jone Bruce Toge, from Shropshire, in 2008, is one of only 60 that have been awarded, experts say.
Cpl Toge was awarded the medal, which is second only to a Victoria Cross, for "gallant and inspirational leadership" while attacking the Taliban.
It is expected to sell as part of a two-day auction on 19 and 20 March.
'Great honour'
Cpl Toge, originally from Fiji, was serving with the Royal Irish Regiment when he took over the leadership of an eight-man team working with the Afghan National Army to suppress the Taliban.
His citation states: "Repeatedly, Toge exposed himself to fire, disregarding his own safety.
"His gallant and inspirational leadership had every man following him."
At one point, Cpl Toge was blasted off his feet, under fire from rocket-propelled grenades. However, he got up and administered first aid to colleagues.
The attack ended with at least two Taliban killed and five wounded, while the rest fled.
Cpl Toge said: "I didn't think about medals - I just thought it was another fight. That's what we do."
He said he wanted to sell the medal to invest in a new business venture.
Richard Bromell, director of Charterhouse Auctioneers, which is selling the medal, said: "The Conspicuous Gallantry Cross is awarded for an act or acts of conspicuous gallantry during active operations against the enemy, being second only to a Victoria Cross.
"Having been instituted in 1993, only 60 to date have been awarded so they rarely appear on the market.
"It is therefore a great honour to be instructed to sell such an important medal by the recipient."