Oliver Sargent death: Telford baby murder accused 'asked about jail'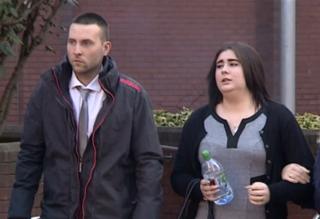 A mother and father accused of murdering their baby son asked about possible jail terms while he lay dying in hospital, a court has heard.
Eleven-month-old Oliver Sargent, from Telford, was taken to hospital with head injuries in July 2012 and died four days later.
Birmingham Crown Court heard he had been subjected to "shaking" as well as at least one impact to his head.
Former nursery nurse Ashlea Thomas and husband Paul deny killing their son.
'Skull fracture'
Prosecutor Andrew Smith said Oliver had been "subjected to a deliberately inflicted injury immediately before his collapse".
A post-mortem examination showed the 11-month-old had suffered an 8cm skull fracture, bleeding on the brain and evidence of haemorrhaging in both eyes.
The jury heard a pathologist had also recorded 13 marks, apparent scars, and historic injuries, including two fractured ribs and a broken collar bone.
Oliver was rushed to hospital after his father called 999 from the family home on 27 July 2012, telling medics that he had stopped breathing.
While there, Mrs Thomas, 21, was overheard by a nurse asking her mother "how long do you think I am going to get", but later told police it was a reaction to "everyone pointing the finger" of blame, the court heard.
After the couple's arrest, her partner, now husband, asked police "what sort of prison sentence one might get for what happened to Oliver", Mr Smith said.
Mr Thomas, 29, later told officers it had been an innocent inquiry and no indication he had attacked his son.
'Bruises found'
Birmingham Crown Court also heard in the months leading up to his death, Oliver was taken to Telford's Princess Royal Hospital on three occasions.
The couple told doctors he was vomiting and struggled to keep food or drink down.
Prosecutors said during one visit, a nurse witnessed Mr Thomas taking hold of the 11-month-old's left arm and leg and "flipped him over from his back on to his side, telling him to go to sleep".
On each occasion Oliver was discharged, despite medics spotting a number of bruises and marks on his body.
The jury heard the couple told doctors that they had been caused by him "rolling over his toys".
Mr Smith said the case had been discussed at a hospital meeting involving social workers, but no further action was taken.
"The prosecution asserts that the hospital doctors were mistaken in accepting those explanations for the various bruises observed," he said.
The couple, both currently of Dalford Court, Telford, deny murdering their son and charges of causing or allowing the death of a child, and child cruelty.
The trial continues.