Shropshire Council backs £40m budget plans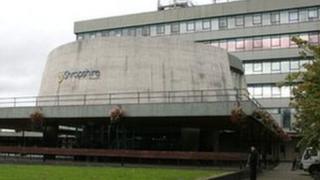 Councillors in Shropshire have approved plans to make £40m of savings in the next financial year, with adult social care facing the biggest cuts.
Council tax will be frozen for the sixth year running.
The Conservative-led authority also backed plans to keep a £500,000 government grant, intended to be passed on to town and parish councils.
Members of the Liberal Democrat opposition said it would "starve" the smaller councils.
Adult social care will see cuts of more than £15m over the next financial year, while £4m will be lost from children's services, including the closure of a children's home in Shrewsbury.
Leader of the council, Keith Barrow, said £100m of savings had already been found and it was becoming harder to cut budgets.
"The biggest pressure on the budget and our biggest challenge is adult social care," he said.
'Most vulnerable'
Withholding money from town and parish councils proved the most contentious issue during the meeting on Thursday.
Ian Pickles, Mayor of Broseley, previously said the local parish council's share would have been £21,000 and its budgets were originally drawn up on the assumption it would receive the grant.
He said it was "immoral" not to pass the money on.
An amendment tabled by Liberal Democrat group leader Roger Evans, calling for the money to be passed on to parishes, was defeated.
Mr Barrow said the local authority's budgets were under pressure and the money would be used to support the most vulnerable across the county.
Local government minister Kris Hopkins said he had written to authorities to remind them the funding was intended to be passed on to town and parish councils.