Theatre Severn audience hit by falling acoustic panel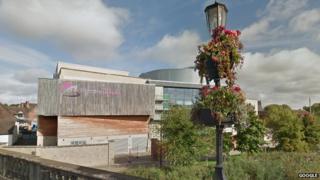 A theatre has begun an investigation after an acoustic panel in its auditorium fell on to an audience.
The tile hit three members of the public leaving the Upper Circle after a performance at Theatre Severn in Shrewsbury on Friday.
They were seen by St John Ambulance and emergency services but did not need further treatment, the theatre said.
Theatre Severn said it has checked all the remaining acoustic panels in the auditorium are secure.
All current shows will continue as planned, a spokesman said.
Theatre Severn
Shrewsbury & Atcham Borough Council committed to funding a new entertainment venue in 2005 - building began the next year
Opened in March 2009
The main auditorium seats 638 over three levels - stalls, circle and upper circle
The 250 seated Walker Theatre can also be transformed into a 500 standing venue for live music