Ironbridge Gorge road to shut for landslip repairs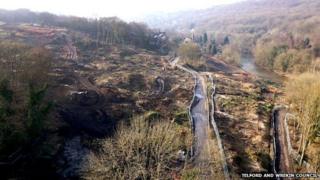 Emergency repairs are to be carried out to shore up a landslip in the Ironbridge Gorge, in Shropshire.
Piles are to be installed along the Lloyds road between Jackfield Bridge and Coalport, similar to work taking place on the south bank of the River Severn.
The scheme, expected to take six weeks, will see the road closed from Monday.
Telford and Wrekin Council described the work as "essential" and said diversions would be put in place.
Councillor Richard Overton, in charge of stabilisation projects, said: "The land has been slipping for years and we are now at a stage where we can't allow it to slide any further because the road will start to be affected."
The local authority is about halfway through a two-year, £17m project to stop part of Jackfield slipping into the River Severn.