Telford and Wrekin and Shropshire Councils are 'not for merging'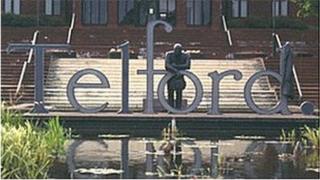 A council has said there is "no chance" it will merge its services with a neighbouring authority.
The proposal that Telford and Wrekin Council could merge some services with Shropshire Council was discussed at a meeting on Thursday, where the authority's budget was also decided.
Andrew Eade, leader of the Conservative group at Telford, said a merger could benefit both unitary councils.
But the Labour-run council's leader Kuldip Sahota ruled out the move.
Free swimming
The Conservatives had suggested sharing some services with Shropshire Council, including payroll and senior officers.
But Mr Sahota said: "We will not be merging with Shropshire Council through the back door, front door or any other door."
Labour's budget was passed, which included a promise to freeze council tax until 2017.
It also included a £1 million fund to boost high streets and free swimming for over 50s at council pools until 2020.
It also said it would increase spending on children's and adult social care.
Bill McClements, cabinet member for finance and enterprise, said the budget offered "many positive investments for its community".
"We are committing to freezing council tax, delivering jobs and investment and protecting vulnerable children and adults."
But Mr Eade said: "The effects of the administration's choice to support other initiatives, rather than social care, has been shown to be dire for home care services, where slashing payment rates to care providers will ultimately affect the care and dignity on people in their charge."