Family raise £10,000 for guide dog in memory of Summer Robertson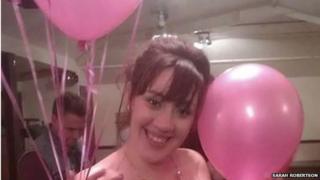 Friends and family of a young woman from Shrewsbury, who drowned off the the coast of South Africa, are raising £10,000 to buy a guide dog in her memory.
Summer Robertson, 21, from Shrewsbury, and 19-year-old Alice Barnett, from Canterbury, died on 4 December.
They had gone to the beach with friends in the Woody Cape area, about 100km east of Port Elizabeth.
So far, the amount raised in Summer's memory has reached more than £6,500.
'Loved helping people'
Her family said Summer loved helping people and had a passion for animals, which was why they had chosen to support a guide dog.
Summer's mother, Sarah, said: "We had a target of £5,000 we were hoping to reach in 12 months and we actually raised that in three weeks. We've now upped the target to £10,000.
"That will help us to name a dog after Summer and to follow its training. That's our aim."
Summer had been volunteering in South Africa, teaching young people about the dangers of drink and drugs. She had been in the country for 10 weeks.
She drowned five days before she was due to come home.