Two Telford flats light bulbs 'cost £340 to change'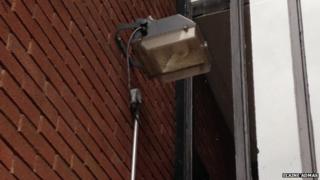 Two light bulbs cost £340 to change at a block of flats, a landlady has said.
Elaine Adams, landlady of one of six flats at Delbury Court in Hollinswood, Telford, Shropshire, said The Wrekin Housing Trust's fee was "atrocious".
She said when she questioned the trust, it claimed it had to carry out repairs immediately due to health and safety - which Mrs Adams said was "ridiculous".
The trust said it took seriously its responsibilities to ensure flats in its ownership "are safe for residents".
'Very high prices'
Mrs Adams said: "I appreciate that repairs have to be carried out to maintain the exterior of the flats and the internal stairway areas to keep them looking good.
"But the trust appears to charge some very high prices for what should be minor repairs."
David Wells, head of operational services for the trust, said it would look at the concerns raised with Mrs Adams.
He said: "The trust works closely with the local fire service.
"We have a duty to ensure that there are safe escape routes for residents and the work we have done is to upgrade communal fire doors and escape signage."
Mrs Adams said the £341.50 charge for changing the two outdoor 70-watt bulbs was divided by six, for the number of flats in the block.
She also said the trust reduced the light bulb charges last week by £188.50 to £153 for two bulbs.