Telford death jump goaders 'may be punished'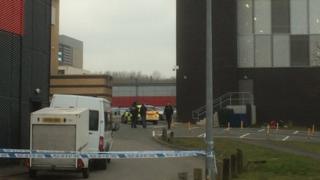 Onlookers who reportedly urged a man on top of a building who later fell to his death to "jump" could be prosecuted, police have said.
The man died on Saturday afternoon in Telford, Shropshire, but officers said they believe he was being goaded and filmed about an hour beforehand.
West Mercia Police said it was investigating whether an offence had been committed.
They also urged those with footage of the incident to delete it.
The force said it was also analysing an image posted on social media.
'Distasteful activity'
In a statement, the force said it would take "appropriate action" if it established a criminal offence had been committed.
"We have also been made aware of distasteful social media activity following the incident. We will also analyse this to establish whether an offence has taken place," it said.
"We would like to remind people that this is an extremely traumatic time for the family of the deceased and we would ask that people show them consideration at this time.
"We would also ask that for the sake of the family, anyone with video footage of the incident deletes it."
On Monday, witness Chloe Jones said a group of about 20 people at the scene were filming the incident.
They were mainly teenagers, she said, but some older men were also recording footage.
She said she heard people encouraging the man to jump.
The incident has also been referred to the Independent Police Complaints Commission.
West Mercia said the referral was part of its routine procedure when a person has contact with police prior to their death.
The Shropshire coroner is now investigating the man's death.
A complaint from a member of the public regarding the goading has also been received by police.