Ironbridge Gorge landslip-hit road reopens ahead of schedule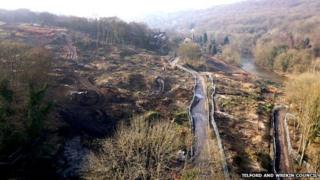 A road at Ironbridge Gorge closed for emergency repairs has reopened ahead of schedule.
The Lloyds road between Jackfield and Coalport needed stabilisation work following a landslide.
The area was secured by sinking 20 piles to a depth of 12m (39ft) through the loose surface and into the stable rock beneath.
The work, on the north bank, is not related to the Jackfield stabilisation project on the opposite south bank.
Telford and Wrekin councillor Richard Overton, who is in charge of stabilisation schemes, said he was delighted the stretch - expected to remain impassable for six weeks - had opened three weeks early.
"I would like to say a big thank-you to the team that has worked on stabilising the Lloyds road as they've put in a big effort to get the road reopened ahead of the Easter period," he said.
What is a landslide?
Landslides happen when water in the ground forces grains of the soil apart so they grains no longer lock together and the slope does not have enough strength to stand up, so begins to slip downhill
Their frequency is strongly related to the weather, and long, wet periods often result in a lot of landslides
Once landslides start moving, they leave the slope permanently weakened and therefore can recur
Strengthening the slope can involve getting water out of it by drainage, or by adding stronger materials, such as steel rods or soil nails, to the slope
Source: Dr Bill Murphy, senior lecturer in engineering geology at the University of Leeds
The Lloyds road will close again in mid-April for two weeks to resurface the highway and footpath.
The local authority is about halfway through a two-year, £17m project to stop part of Jackfield slipping into the River Severn.
The gorge, a World Heritage Site, boasts the world's first iron bridge and is cited as the birthplace of the Industrial Revolution.