Georgia Williams murder: Family to appeal misconduct report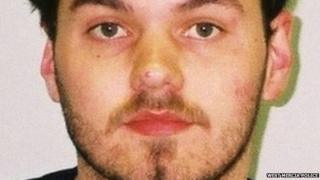 The parents of a murdered teenager will appeal against a report about the police's handling of her killer Jamie Reynolds, calling for officers to face gross misconduct investigations.
Reynolds admitted murdering Georgia Williams, 17, from Wellington, in 2013.
A report found three officers and a member of police staff should face misconduct hearings over an earlier attack by Reynolds on another girl.
Georgia's family said their "inactions were terrible, it's deplorable".
They said report did not go far enough and would be lodging an appeal about the findings.
West Mercia Police said it would be inappropriate to comment until misconduct proceedings had concluded.
The force asked Devon and Cornwall Police to lead an investigation into previous dealings with Reynolds, who had been cautioned by officers for trying to strangle a teenage girl in 2008.
That report has now been passed on to West Mercia Police.
Lynette and Steve Williams, himself a serving detective with West Mercia, have received a copy of the report and described the force's handling of the attack in 2008 as "institutionalised incompetence".
'Potential serial killer'
They said they were "very pleased with the thorough investigation" by Devon and Cornwall Police.
"We are not so impressed with some of the disciplinary levels which we will be querying because of the consequences of their [police officers'] inaction. Their inactions were terrible, it's deplorable," Mrs Williams said.
"They're experienced officers, they should have known what they were doing and they really let the public down and they really let Georgia down.
"At the very least it should be gross misconduct."
In December 2013 Reynolds was told he would serve the rest of his life in prison after admitting Georgia's murder.
Stafford Crown Court heard the 23-year-old had lured her back to his home on Avondale Road in Wellington, before hanging her.
The jury was told he had a "morbid fascination" with depictions of extreme violence and was a potential serial killer.