Work begins to rebuild Tayleur Arms pub after fire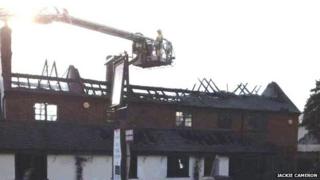 Work has started to rebuild a 300-year-old pub destroyed by a fire last year.
More than 40 firefighters tackled the blaze at the Tayleur Arms in Longdon-upon-Tern, near Bratton, Shropshire, in March 2014. No-one was injured.
Richard Harvey, the landlord along with wife Eve, said the pub would is due to re-open in November.
He said it would look different but hoped "to give it the same feel, the same food and the same welcome" as before.
Mr Harvey said: "We've tried to put one of the fireplaces back to how it used to be.
"Obviously the build is going to be new buildings, new bricks. The old place was 300 years old and that part of the character of the building obviously is going to be very difficult to recreate."