Telford 'box road' project completed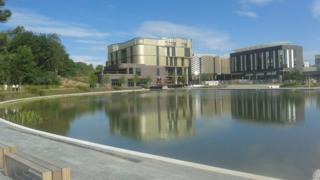 A major road in Telford town centre is set to fully reopen after an £11m project.
Work on the "box road" has taken almost 18 months to complete and is part of a £450m revamp in Telford.
The nearby Southwater leisure and retail complex opened in July.
The latest work will see Woodhouse Central, Lawn Central and Grange Central become two-way from 05:00 BST for the first time since the town was built.
Extra work, including landscaping, road signs and street lighting are expected to be completed over the next month.