Shrewsbury Cathedral plans £280,000 upgrade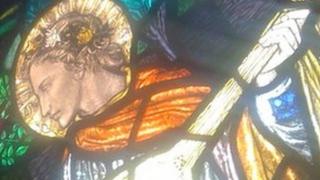 The Catholic cathedral in Shrewsbury is planning a £280,000 upgrade after successfully bidding for funding.
The building has been awarded the grant by the First World War Cathedrals Repair Fund.
Canon Jonathan Mitchell said he planned to use the money to make the building more accessible and create a new memorial chapel.
He said work would start towards the end of the year and he hoped it would be finished by March.
'Much work to do'
The canon said: "We are hoping to create a better entrance with a facility for the disabled to come through the main doors of the church. Currently they have to use a side door.
"We also hope to create a glass narthex (entrance) within the back of the cathedral to enable visitors to come and see the building."
He said the chapel would be created to honour 63 Catholic men from the Shrewsbury area from World War One "who are memorialised on the war memorial" and remember anybody killed as a result of armed conflict up to the present day.
Sir Paul Ruddock, who chairs the fund, said: "Cathedrals are... very much public spaces, there for everyone.
"I am also acutely aware that there is still much work to do in order to keep them safe and open."